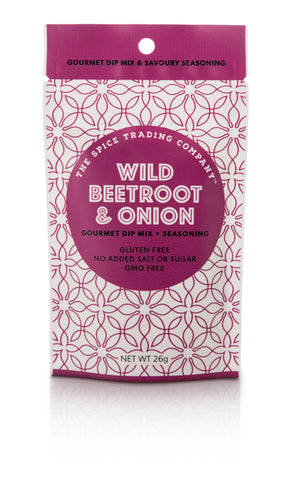 Spices Australia Wild Beetroot and Onion Gourmet Dip Mix -26g - GF
• Gluten Free
• GMO Free
• No Added Salt
• No Added Sugar

There's no taming our earthy Wild Beetroot and Onion spice blend. Full of healthy flavours and natural goodness, it will leave you jumping out of your skin!

To Make a Gourmet Dip or Spread: Combine 250g of sour cream, cream cheese, yoghurt or dairy replacement with 1 sachet of Wild Beetroot & Onion mix or to your taste. Allow to sit for 30 minutes. Use ½ sachet as a snack or full sachet for entertaining.

Also use as a seasoning on meat, poultry, fish or add to soup, sauces, vegetables and pasta dishes.

The Spice Trading Company proudly use Australian ingredients unless not available.

Ingredients: Beetroot Powder 39% (Anti Caking 551-.6%) onion, maize, carrot, red/green capsicum, mint, leek & garlic.
Nutrition Information

Serving per Package: 5

Avg. Quantity per serving: 5.2g

Avg. Quantity per 100g

Energy

30kj

571kj

Protein

0.3g

6.1g

Fat, Total

0.1g

0.9g

Saturated

0.0g

0.2g

Carbohydrates Total

1.1g

21.3g

Sugars

0.6g

10.7g

Sodium

2mg

48mg
---
We Also Recommend