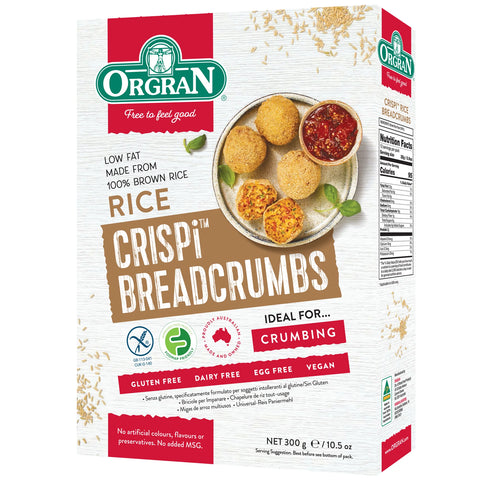 Orgran Crispi Rice Breadcrumbs, Gluten Free - 300gm
Orgran's Rice Crispi Breadcrumb has a delightfully crispy texture and a versatile gluten free crumb. Low fat and FODMAP friendly, it is perfect for coating your delicious vegan, vegetable, fish or meat creations.
Made in Australia from local and imported ingredients.
Brown Rice Flour (100%).
Per Serve
 Per 100g
Energy
392kJ (94kcal)
1569kJ (374kcal)
Protein
1.6g
6.2g
Fat - Total
0.5g
2.1g
- Saturated
0.0g
0.2g
Carbohydrate
19.4g
77.4g
- Sugars
0.3g
1.2g
- Starch
19.1g
76.2g
Sodium
1mg
2mg
Dietary Fibre
0.9g
3.6g
Gluten
Not detected
Not detected
---
We Also Recommend