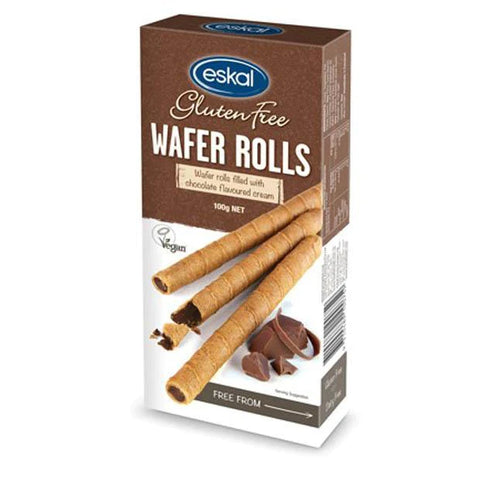 Eskal Gluten Free Wafer Rolls Chocolate Cream 100g
There's no need to miss out on treats like a wafer roll just because you're gluten free! These wafer rolls are dairy free as well. Enjoy one (or two ;-) ) with your next ice cream sundae. Great for cake decorating too! The wafers are packed in two pouches for freshness.
Gluten free
Dairy free
Vegan
Ingredients: sugar, vegetable fat (coconut), potato starch, soy flour, corn starch, cocoa powder, purified vegetable oil (palm), cellulose fibre, emulsifier (soy lecithin), stabiliser (guar gum), flavours (0.1%), salt. 
Allergen Statement: Contains soy. May contain: hazelnuts and coconut.


Nutritional Information
Servings per package: 12
Serving Size: 8g

As Per
Per Serve
Per 100g
Energy
167kJ
2164kJ
Protein
0g
3.9g
Fat, Total
2g
26.7g
     Saturated
1.5g
20.2g
Carbohydrate, Total
5g
63.9g
     Sugars
3g
36g
Dietary Fibre
* g
* g
Sodium
0mg
35mg
---
We Also Recommend