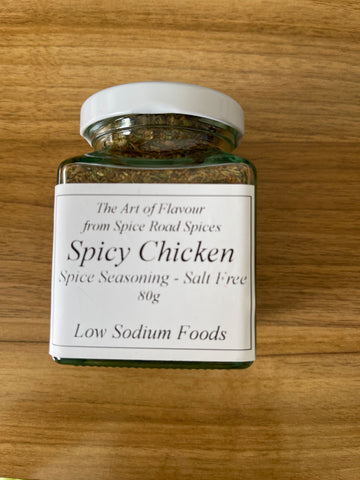 Spice Road Spices - Spicy Chicken Seasoning - Salt Free - 80g
The Spicy Chicken Seasoning works beautifully with favourite Casseroles, Meatballs and Mince, Oven Roasted or Pan Chicken, BBQ or Roast Vegetables. Wonderful to have ready in your kitchen pantry and totally free of artificial flavours and preservatives.
The perfect Salt Free Chicken partner with a slight spicy touch without dominating the chicken flavours. A wonderfully easy, time saving salt free addition to your recipe.
Your Flavour Profile
The spices have been curated to provide a wonderful seasoning, salt free for people wishing to remove or reduce salt in their diet.
This special natural seasoning contains no artificial flavours and preservatives.
Natural ingredients: Fennel, Oregano, Paprika, Garlic, Onion Powder, Sumac, Cumin, Parsley, Coriander and Nutmeg, Black Pepper,
---
We Also Recommend