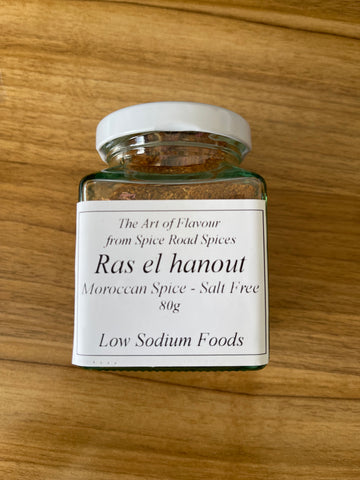 Spice Road Spices - Ras el hanout Seasoning - Salt Free - 80g
A true Moroccan classic with dried rose petals and the warm mellow flavours of North Africa. Developed over 2000 years and perfect as a Salt Free spice seasoning .
Flavour Profile
The spices have been curated and tested to provide a wonderful seasoning, salt free  for people wishing to totally remove salt or to reduce salt in their diet.
Wonderful as a Salt Free rub for a BBQ Steak or Grill and especially good to bring the exciting, natural Moroccan flavour to a favourite Braise, Casserole or Stir Fry.
Totally free of artificial flavouring and preservatives.
Ingredients: Cumin, Coriander, Rose Petals, Green Cardamom, Fenugreek, Paprika, Cinnamon, Ginger, Nutmeg, Turmeric, Sumac, Chilli Flakes, Black Pepper,
---
We Also Recommend