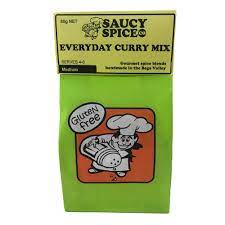 Saucy Spice Co Everyday Curry Mix - 80g. Gluten Free
This mix is for you to use where you need a generic curry mix. With a wonderful array of spices this will give your curried eggs or sausages a nice new twist. Give it a go if you're keen.
Spices:
Coriander, Cummin, Cinnamon, Cardamom, Mustard Seed, Mustard Seed, Fennel, Nutmeg, Turmeric and Black Pepper.
---
We Also Recommend