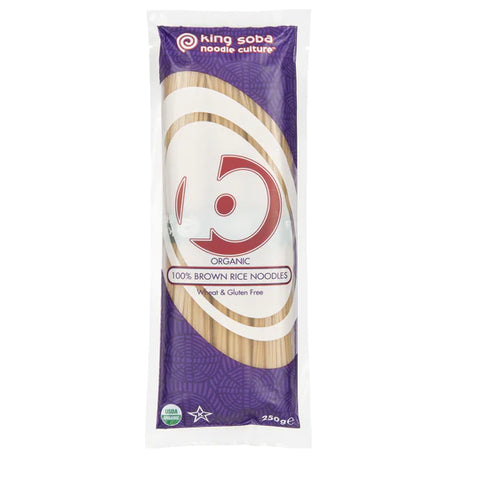 King Soba Organic 100% Brown Rice Noodles, Gluten Free 250g
Noodles are generally considered one of the most nourishing 'fast foods' on earth.
Our 100% Brown Rice Noodles are organic and wheat & gluten-free. Less processed than white rice, brown rice retains many health-giving nutrients, containing rich amounts of fiber, B vitamins, and minerals such as selenium and magnesium.
King Soba Organic 100% Brown Rice Noodles are kosher, ideal for vegetarians, vegans, celiacs or wheat and gluten sensitive. Noodles provide a quick and healthy food alternative. These fine brown rice noodles are delicious served in a Japanese style vegetable soup or stir-fried with vegetables. Noodles are a highly versatile staple food, try using instead of spaghetti pasta as a healthy, gluten-free alternative.
Ingredients: Organic Brown Rice Flour, Water.
Sodium per 100g = 0mg 

---
We Also Recommend