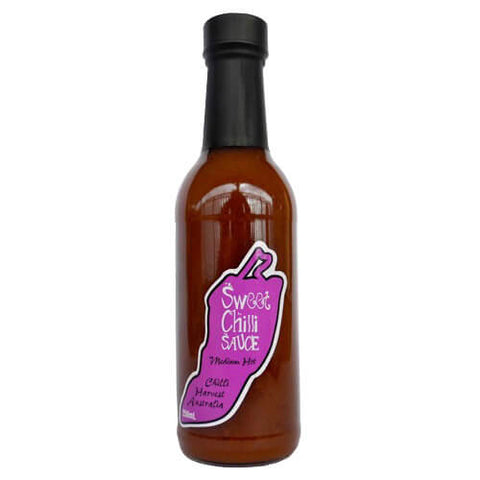 Chilli Harvest - Sweet Chilli Sauce - 250ml
 This is many people's favourite sauce. This fresh, fruity sauce is finely blended using the world's best sultanas and freshest spices, unlike most sweet chilli sauces, this one surprises the best chilli lovers. You first taste the beautiful sultana flavour with a slight medium heat then after 10-15 seconds, the heat slowly but surely gets hotter and hotter for about 25 seconds but still remains incredibly flavoursome.
To complement: chicken, pasta, BBQ meats, seafood, noodles and stir fries.
Ingredients
vinegar, cane sugar, sultanas, water, chilli, garlic, ginger, xantham gum

 Nutrition Information

Per serve
Per 100 g
Energy
192kJ
770kJ
Protein
0.2g
0.7g
Fat (Total)
0.1g
0.5g
- Saturated
0.0g
0.1g
Carbohydrates
10.6g
42.6g
- Sugars
10.5g
41.9g
Sodium
18 mg
32 mg
Gluten
Not detected
---
We Also Recommend